I definitely wasn't an early adopter with foursquare, but I'm coming around, simply because it is such an amazing marketing channel for small businesses.
For those of you unfamiliar with foursquare, it's a web-application that lets people "check-in" via iPhone or smartphone to places they frequent. It could be a cafe, sporting goods store, or even a doctor's office. People earn points when they check-in. There's also the opportunity to win badges, and ultimately the coveted "Mayorship" for having checked into a location more frequently than anyone else.
Those gaming elements make foursquare sticky; it's incredibly engaging, and there are incentives to keep checking in.
Rewards for first time and loyal customers
Chances are many of your customers are checking-in to foursquare when they visit your business. Why not reward their loyalty? You could also provide an incentive for a new customer by offering a free item or discount upon their first check in.
Here are some suggestions from foursquare for rewarding your customers:
Mayor Specials: unlocked only by the Mayor of your venue. Who's the Mayor? It's your single most loyal customer! (the user who has checked in the most in the last 60 days)
("Foursquare has deemed you the Mayor? Enjoy a free order of french fries!")
Check-in Specials: unlocked when a user checks in to your venue a certain number of times.
("Foursquare says you've been here 10 times? That's a free drink for you!")
Frequency-based Specials: are unlocked every X check-ins.
("Foursquare users get 20% off any entree every 5th check-in!")
Wildcard Specials: always unlocked, but your staff has to verify some extra conditions before awarding the Special.
("Show us your foursquare Swarm badge and get a free drink!")
foursquare has done a good job of making business promotions visible on both their website and their official apps for iPhone, Android and Blackberry:
The power of cross-promotion

If you're planning on offering specials that are exclusive to foursquare users, make sure your mention those rewards in your other marketing.
Mention your foursquare exclusive specials to your followers on Facebook & Twitter
Post signs in your place of business that encourage customers to check-in to your business on foursquare
Include a foursquare badge or language in any print marketing your business does (you should be doing this for Twitter & Facebook if you also use those channels to promote your business)
Once you establish your business on foursquare, they will send you some nifty window decals that will help encourage your customers to participate!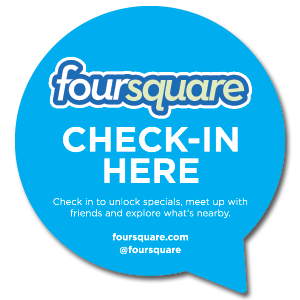 Here are a couple more excellent articles on marketing with foursquare:
Rynoweb: Local Search Marketing Using foursquare
Convince & Convert: Ignore foursquare at your peril